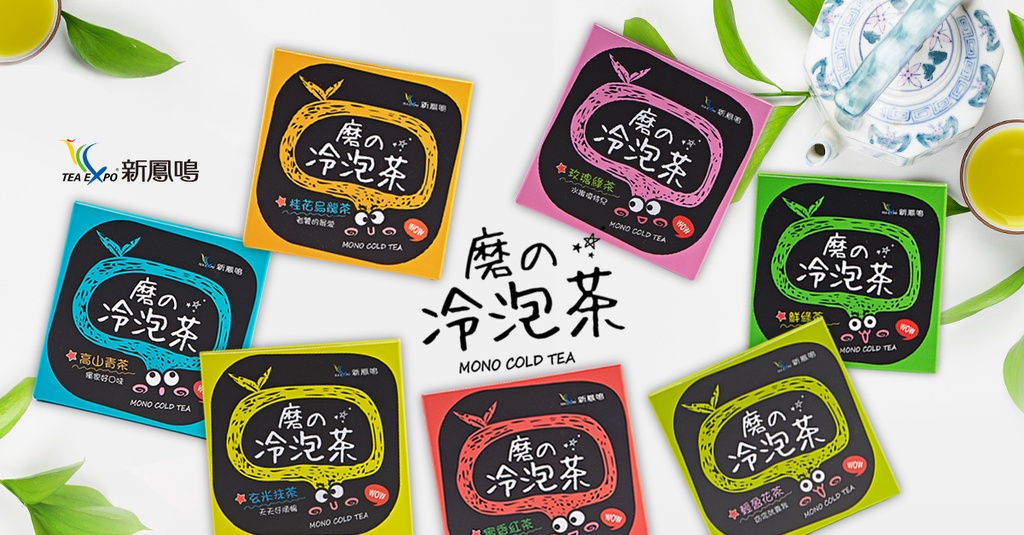 ◢
磨的冷泡茶( Mono cold brew tea)
使用原片茶葉,經過獨家創新的高端研磨技術製作,
不添加化學香精,單純以茶葉及花草為主。
並且以便利沖泡的茶包模式呈現。
可縮短冷泡時間,輕鬆浸泡約30分鐘,
即可享受鮮甜好滋味。
◢
冷水浸泡茶,不易釋放咖啡因,
甘甜的茶胺酸完整釋放,茶湯滋味鮮甜,
無糖更好喝更解渴,適合天天飲用。
◢
磨的冷泡茶是新鳳鳴茶業公司首創研發,
原料嚴選適合的茶葉及天然花草,
並在ISO22000 HACCP標準茶廠製作,
多口味多風味,目前有7種冷泡茶品,都是獨家研發供應。
符合現在人的生活形式,隨時隨地享受高品質茶飲。
◢ 蜜香紅茶
◢ 桂花烏龍茶
◢ 鮮綠茶
◢ 高山青茶
◢ 玫瑰綠茶
◢ 玄米抹茶
◢ 輕盈花茶(茶花綠茶)
以上七種茶品,皆不需要加糖,本身的好味道,您嚐過就知道!!
◢
茶包材質一樣重要
選用通過ISEGA食品級的棉紙,以及SGS檢驗合格鋁箔袋。熱泡、冷泡都OK。
【商品資訊】
品名:磨的冷泡茶-輕盈花茶
成分:茶葉、花茶、薄荷葉
規格:40公克/10入
保存期限:2年
保存方式:通風陰涼處或冰箱冷藏置放
營養標示: 衛生福利部公告無需填寫營養標示之產品得免之
產地:台灣
原料產地:台灣.日本.埃及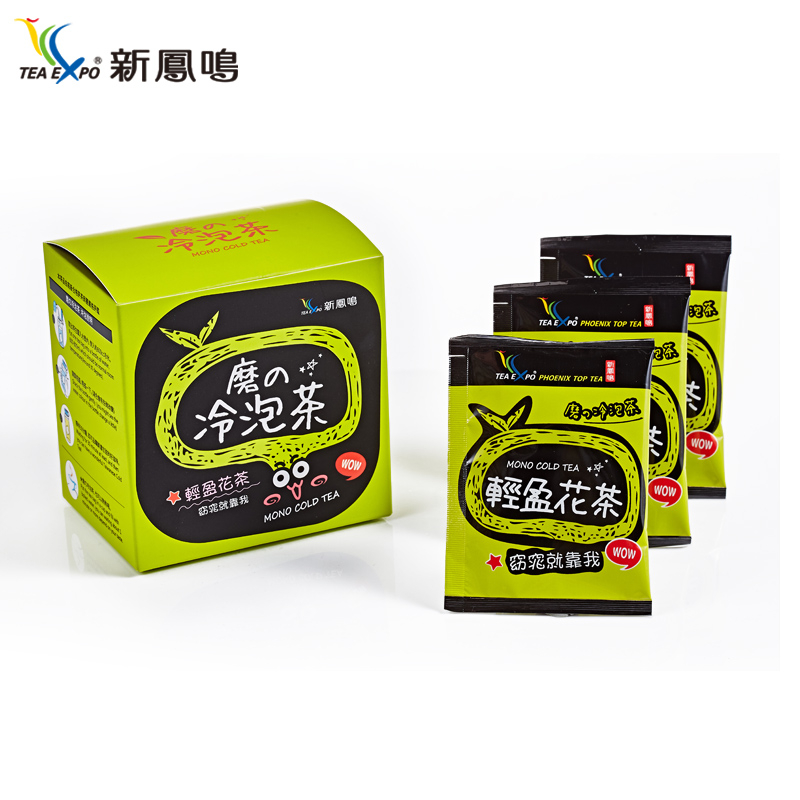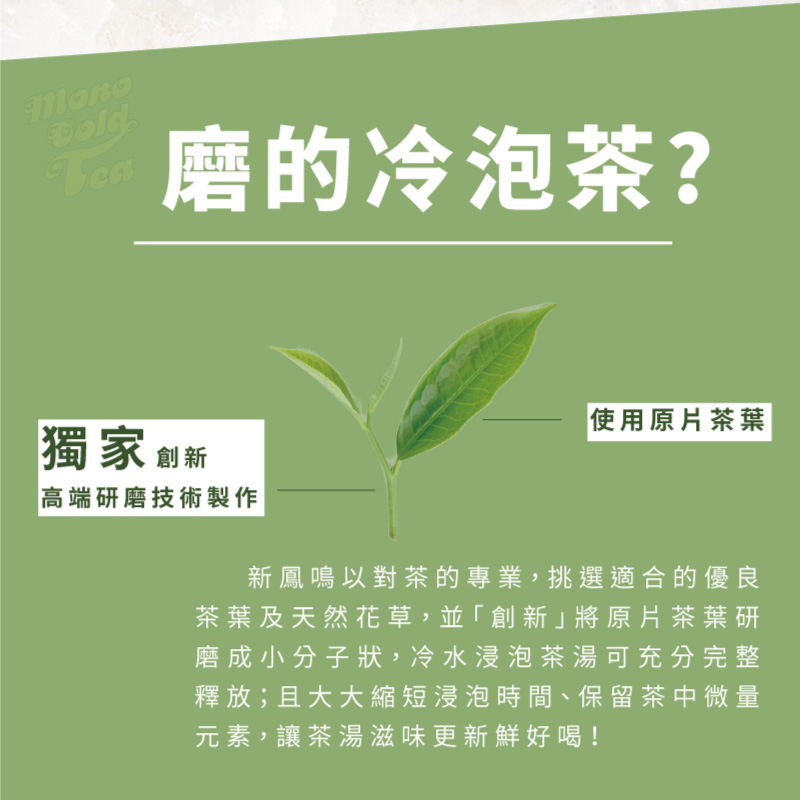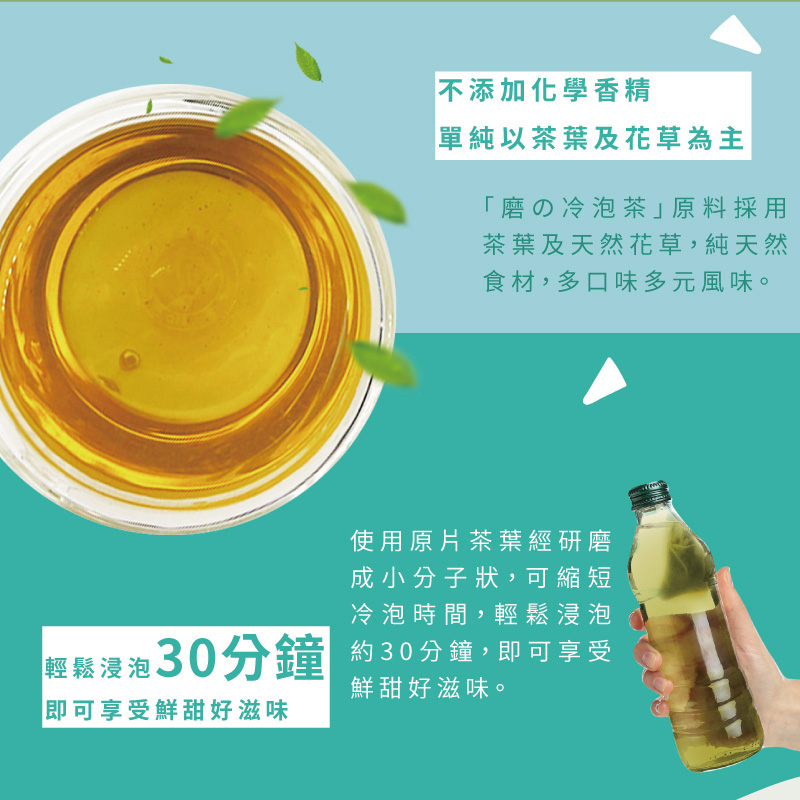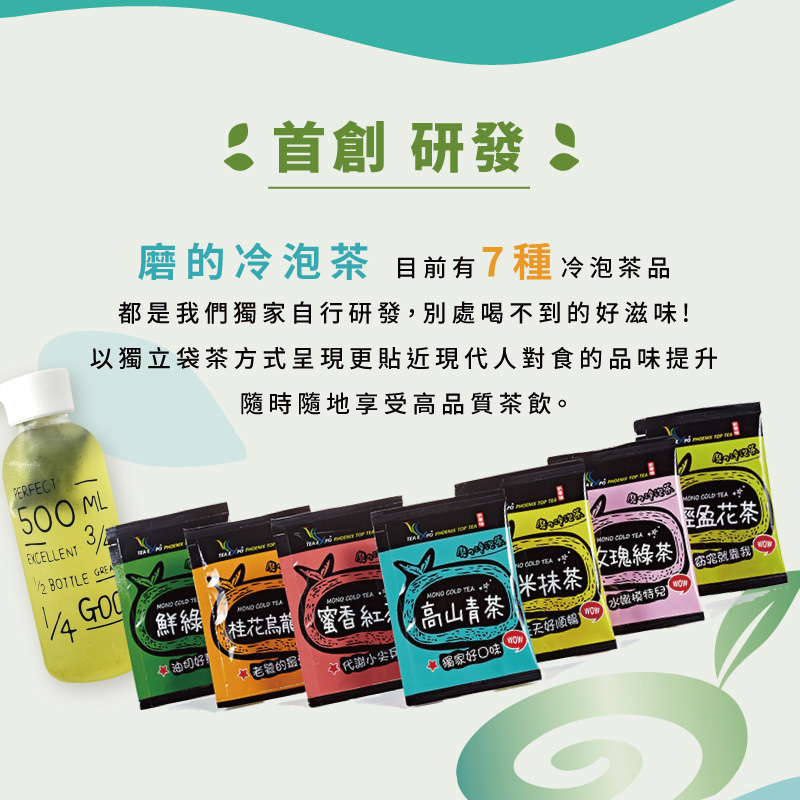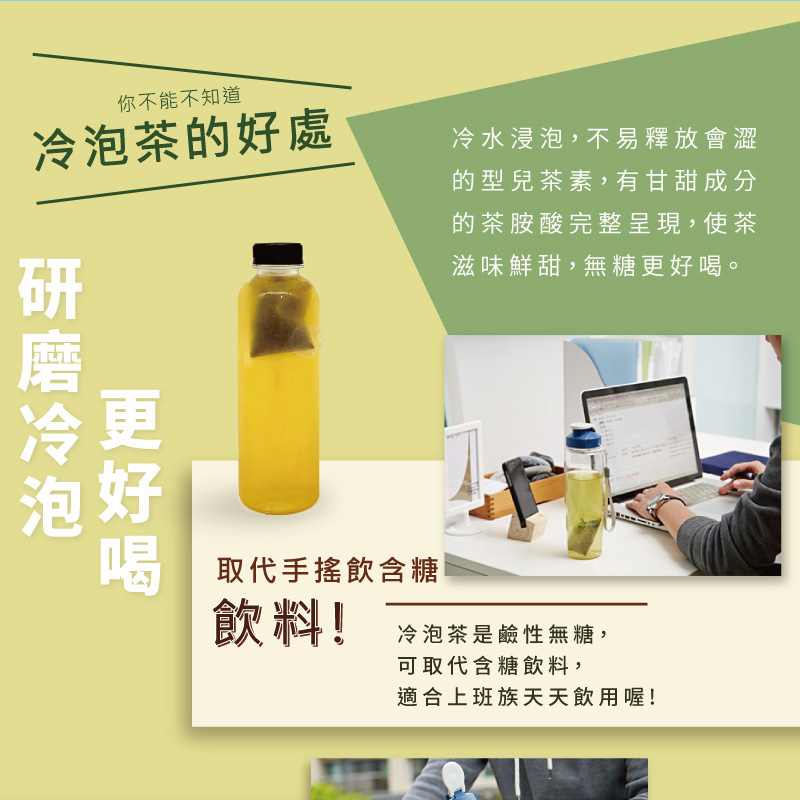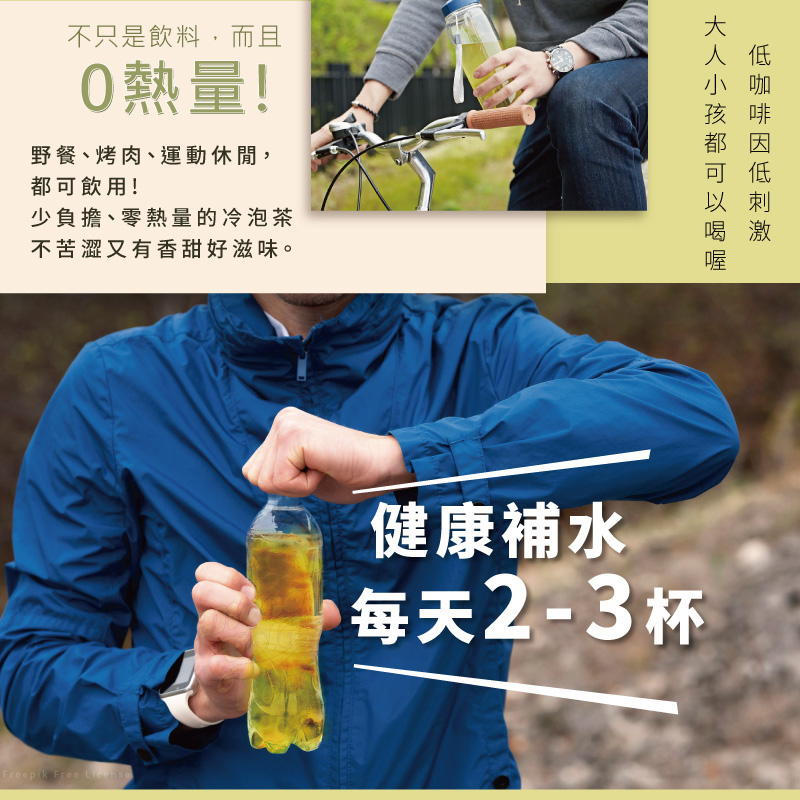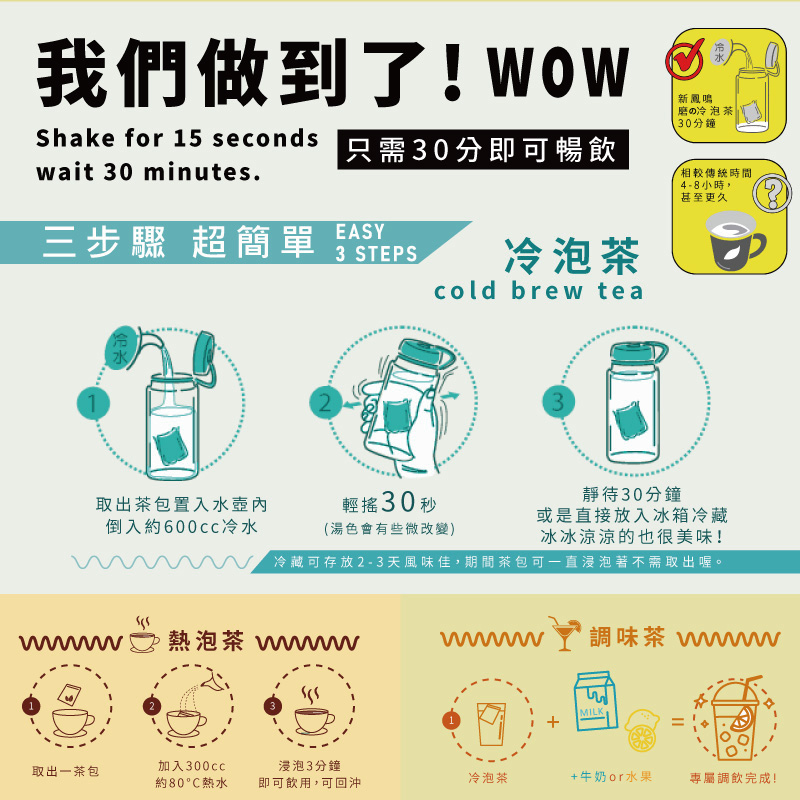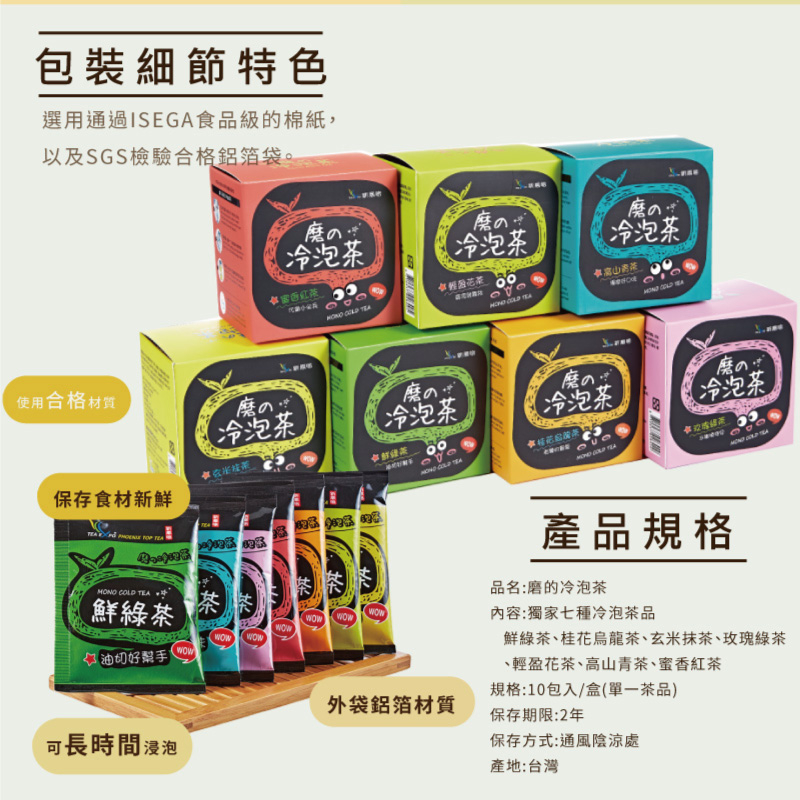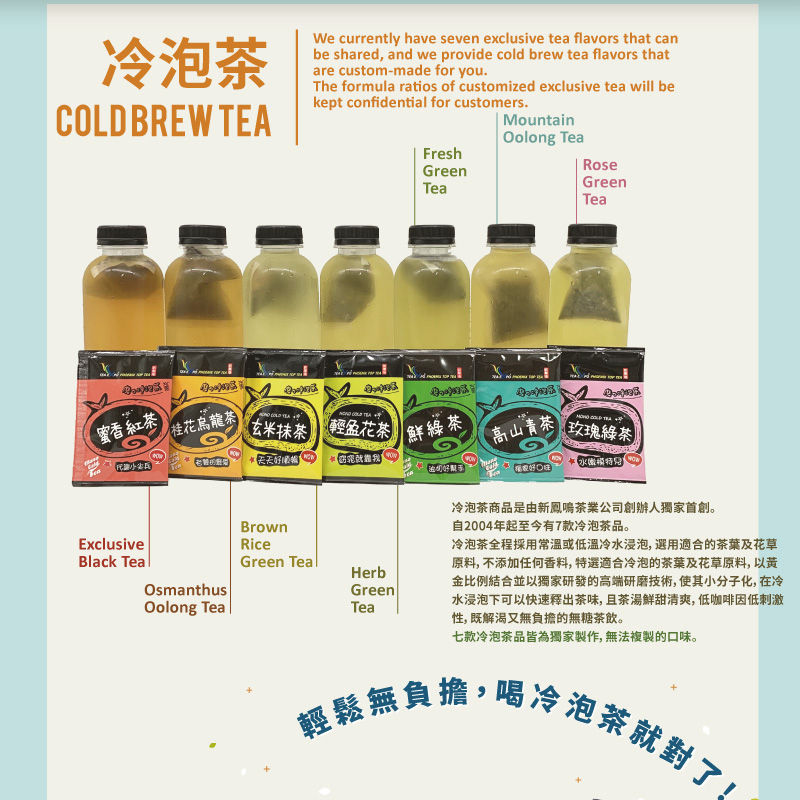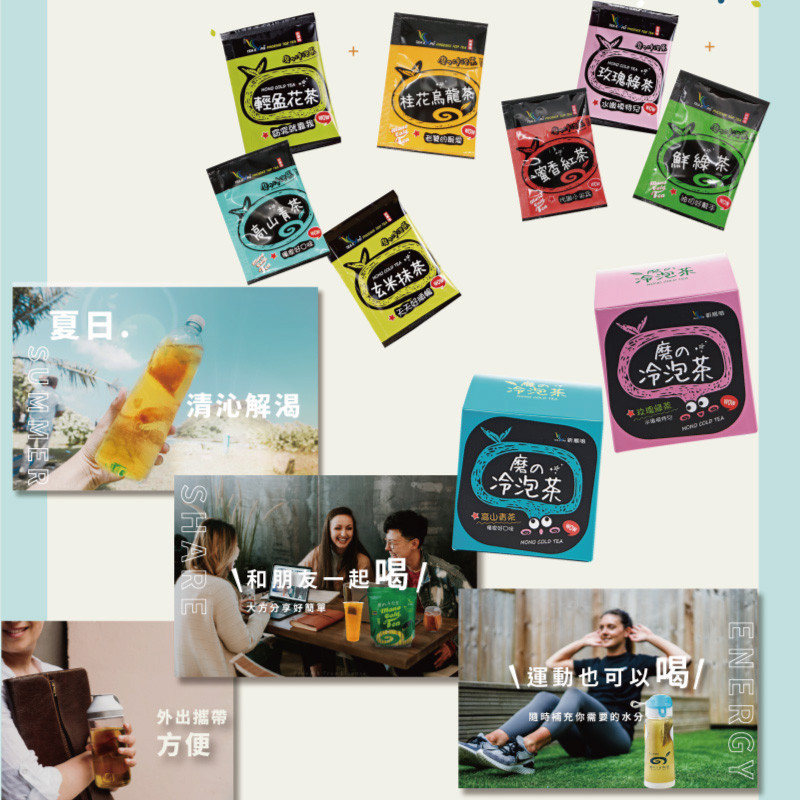 MONO Cold brew tea
The first company to make tea into cold brew and promote it in Taiwan.
There are 7 different flavors of cold brewed tea, all of which are exclusively developed and produced by New Fonming Tea Company.
Strictly select high-quality tea, herbs. It is ground by technical tools and blended from whole tea leaves and flowers.
Makes every taste fresh and unique without artificial additives.
Perfectly present the original flavor of natural herbal tea, exclusively produced.
Product name: Mono Cold Brew Tea –Herb Green Tea
Specifications: 4g x 10 packs / box.
Ingredient: Tea,Jasmine tea, mint
Shelf life: 2 years
Storage method: keep the tea store in a cool, dry place.
Manufacturer: New Fonming Tea Business Co., Ltd.
Origin: Taiwan
Brewing method:
For cold brew tea:
1 tea bag for 600-800ml room temperture water.
Put the tea bag into the water bottle then shake it lightly.
Waiting for 30+ minutes.
You can keep the tea bag in the bottle (cup), no need to take the tea bag out, until finish your tea.
For hot tea :
Water temperature is below 80 degrees, brew about 3+ minutes.
Tips: when you drink half of cup, you can refill hot water again & again until no taste.
Paper bag
ISEGA qualified cotton paper material.
Safe for prolonged immersion, quick release of tea flavor.
Outer bag
Individually Wrapped to keep tea fresh and convenience, easy to share.
---
磨的冷泡茶-輕盈花茶盒裝Mono Cold Brew Tea –Herb Green Tea